Are You Looking For Decking In Witney?
As landscape gardeners Oxfordshire Turf have diversified into various garden services. Over the past decade we've been offering decking in Witney and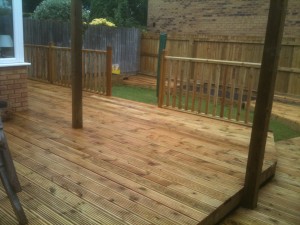 have risen to stand among the regions leading installation specialists.
Protect Your Homes Value
Decking has grown in demand. Why? Our consumers understand that decking can radically alter the appearance of their family garden. In a series of consumer studies decking has consistently ranked alongside loft-conversions for protecting the value and marketability of your home. 
Based on a survey of 3,000 members of the National Association of Realtors, Decking is among the top 10 home improvement projects to protect the value of your home. 
Source: Remodeling Magazine Survey
Decking and garden design is forever evolving. New trends, fittings and specifications enter the market and we adopt our catalog accordingly. From balustrades and railing to new designs we trace the trend line and offer a variety of decking materials to suit your specifications.  
We work through the greater Oxfordshire area. Including Oxford, Bicester, Kidlington, Banbury and Farringdon. For more information, contact us today for your quote. 
Call Oxfordshire Turf On 

07513178369